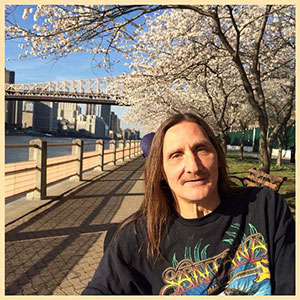 Bryan came to Wheeling Forward when he was interested in transitioning from living in Coler nursing care facility to his own apartment. Bryan suffered a spinal cord injury from a diving accident 30 years ago and had been in Coler for 7 years. He is a quadriplegic and requires daily assistance, including 24 home care and nursing assistance. In order to live in his own place, Bryan would need many services–which required a complex transition process.
"It's so hard to put into words everything that Wheeling Forward accomplished," Bryan says. "There were so many details that needed to be done as far as contacting the State, doing the assessments, giving the necessary documents to Independence Care System, a community insurance company, and making sure that I was approved for long-term care."
Wheeling Forward worked closely with Bryan's social worker, served as his patient advocate during his interview process, and assisted with every aspect of the transition process.
In addition, Bryan says Wheeling Forward's staff is very professional. "Wheeling Forward gave me reliable answers and contact information; if they didn't have all the answers, they would find out. It was a pleasure to work with them."
When asked about the greatest benefit working with Wheeling Forward, Bryan simply remarked, "I don't think I would have gotten as much as done on a timely basis if it weren't for Wheeling Forward and their staff."