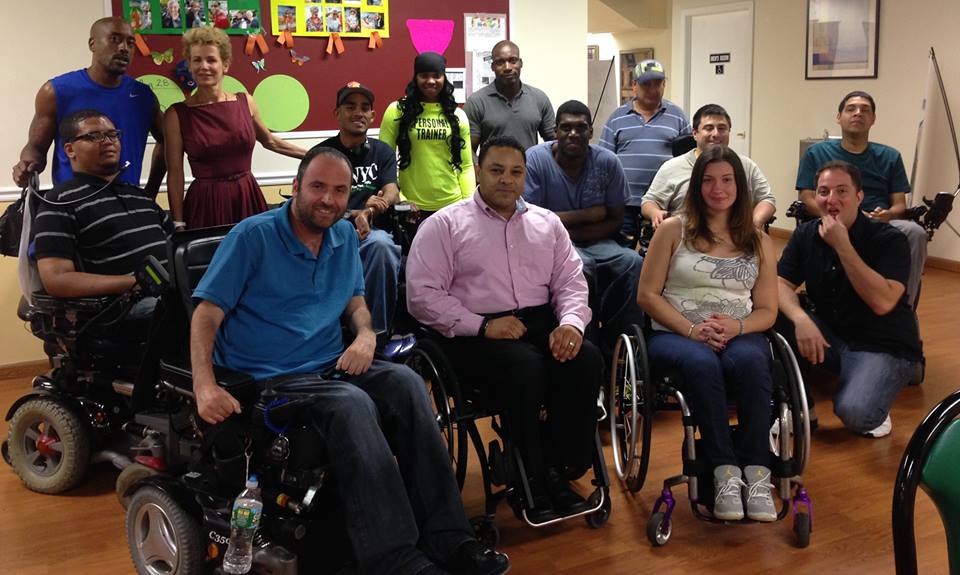 The Axis Project is a new and innovative multidisciplinary center specifically designed for people with disabilities.
Located in a 7,500 square feet multidisciplinary center just a few blocks away from Central Park and 110th Street, the Axis Project offers programs and activities designed to empower and motivate people with physical disabilities to pursue a healthy, active lifestyle. The center is wheelchair accessible and features all accessible equipment. The Axis Project offers activities including a spinal mobility exercise class, an assistive technology / computer program, and an advocacy desk for people with questions about employment, benefits and more.
In addition, the Axis Project offers people with disabilities the support and comradely that many are silently seeking.  "You feel welcome," participant Stefan says. "Everyone here is willing to help you, everyone here talks about the same things and wants the same things."  Axis provides social gatherings, community meals, and outings so that everyone has an opportunity to socialize and be themselves.
An art therapist, Tamara, provides daily art classes encouraging people with disabilities to create whatever they are feeling or experiences.  "I offer examples of still life or themed-based projects," she says, "but really, I just want people to be comfortable with art and draw whatever moves them."
The Axis Project has an array of exercise classes: boxing, yoga, Zumba, personal training, core strengthening and karate are available—all within the safety and support of those familiar with disabilities.  As participant Vernita agrees, "Before the Axis Project, I never really did exercise because I was afraid to hurt my muscles.  Here I learned that I can work my muscles. . . and I'm not hurting."  Perhaps the real benefit is the organization's social component. As participant Eli explains, "what the Axis Project does is that it takes all the good elements from a hospital and a rehab and puts it into a setting that isn't necessary a medical one. [Instead] you're surrounded people like you with the same mindset."
Indeed all of the Axis Project's classes, whether creative or structural, have people with disabilities' unique well-being and needs in mind.  The yoga and karate classes help participants focus, strengthen, stretch or defend themselves, while also encouraging more personal fulfillment with an advocacy desk and career coach on staff.  The Axis Project also provides assistance in transportation for first time visitors, and a weekly wheelchair repair service.  All services are provided under Medicaid.
Perhaps the truest compliment to Axis is their relentlessness: "They go the extra mile to help people . . . whether that's just simply repairing a wheelchair or advocacy, or giving you a place to exercise.  They're there to serve you and not the other way around."